How long will it take to recieve my order?

Your order is shipped out within 48 hours of you order being placed. Please allow 1-2 weeks for your order to be delivered within Canada, 2-3 weeks for US delivery. Rush delivery is available for an additional charge.


How will I know when my gift is shipped to the recipient?

You will receive a confirmation email regarding ship date, tracking number if applicable, and order receipt.


What is your return policy?

We want you to be completely satisfied with your purchase. If you are not 100% satisfied you may return your item(s) within 14 days of the date you received the order (allow for transit), unused, unwashed, in original condition and packaging, for a complete refund, (excluding shipping charges). Exchanges are processed within 14 days of our receipt of the item(s). If the item you have requested in your exchange is no longer available a store credit will be issued. Items that were purchased as a set must be returned as a set.

Is my credit card information secure?

We use PAYPAL for safe and secure intenet payments, which means that we do not require your credit card information, and we do not store your sensitive financial information. Visit www.paypal.com for more information.


What shipping method is used?

We ship using Canadapost. Your order usually ships within 48 hours of your order being placed, shipping times varies depending on your location. We process orders everyday Monday-Friday (excluding holidays). As soon as your order is processed, you will recieve shipping confirmation via email. If there is any delay in processing your order you will be notified immediately.

Shipping rates: for shipping within Canada and the US, please see the chart below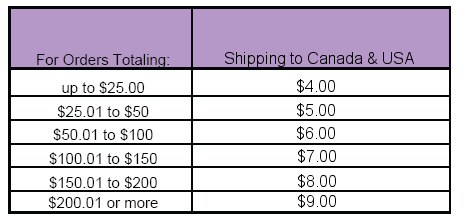 Shipments to Alaska, Hawaii, and overseas will vary depending on the location to be shipped. Rates can be determined by contacting orders@febebebe.com

Do you sell Wholesale? Do you Drop Ship?

Yes! Please visit our Retailer page to request our Wholesale Information Package. As soon as your information is approved we will forward Febe Bebe guidelines and prices and order form.


How can I give my feedback regarding Febe Bebe products?

You can send us your comments by filling out our contact form on our contact page, or email directly to comments@febebebe.com. We would be happy to hear your ideas, suggestions and gift feedback.


Where can I check the status of my order?

You can contact our Customer Service Department at orders@febebebe.com to inquire about the status of your order.